Profile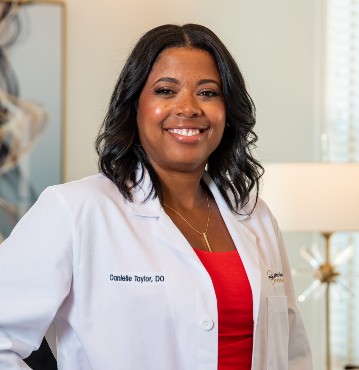 Dr. Danielle Taylor, a board-certified surgeon, brought her urogynecology expertise to Pelvic Health Essentials at the Essentials Center in summer 2022.  She earned her Doctor of Osteopathic Medicine from Ohio University and completed her residency at Northeast Ohio Medical University in 2016.  She completed her fellowship in Female Pelvic Medicine and Reconstructive Surgery at U Mass Memorial Hospital before becoming a Urogynecologist at Doctors Hospital in 2019.
At Pelvic Health Essentials, Dr. Taylor is focused on helping women with pelvic floor disorders, including urological, gynecological, neurological, and colorectal conditions.  She is currently accepting new patients.
When not practicing medicine, Dr. Taylor likes to stay active and spend time with her family.
Monday – Friday 8:30AM – 5:00PM
Saturday Closed
Sunday Closed
 WEST AUGUSTA
3696 Wheeler Road
Augusta, GA 30909
(706) 736-1830 
DOWNTOWN AUGUSTA
1303 D'Antignac St, Ste. 1000
Augusta, Ga. 30901
(706) 821-2944 
 AIKEN
222 University Pkwy
Aiken, SC 29801
(803) 306-1438 
ESSENTIALS CENTER
1220 George C Wilson Dr
Augusta, GA 30909
(706) 941-8206