Profile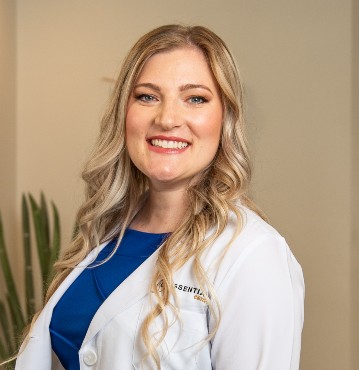 Laura Gillen, PA-C, joined the Essentials Center team in summer 2022.  She earned her Bachelor of Science in Biology with a minor in Chemistry from Georgia Southern University, and she attended Augusta University for Physician Assistant school where she was nominated to the National Honor Society for Physician Assistants.
Prior to joining PHE, Laura worked alongside plastic surgeons to do reconstructive plastic surgery including DIEP flap reconstruction and other flap reconstruction for many different kinds of cancer.  Under the guidance of Dr. Danielle Taylor, Laura has further expanded her skillset to include urogynecology reconstructive surgery.  Dr. Taylor utilizes Laura's fine surgical skills from plastic surgery to help accomplish the best surgical outcomes for patients.
Laura's mom inspired her to pursue medicine, as she attended nursing school while Laura was in high school.  Laura knew that she had a shared love of healthcare, as she always enjoyed talking to her mother about her daily work caring for others.  Today, Laura is passionate about making a difference in patients' lives, just as her providers have made a difference in hers.
One of Laura's favorite aspects of the job is having that first post-operative visit with a patient and hearing how happy they are and how the surgery has already changed their life for the better.  "Public health can be scary and intimidating," Laura says; "however, the providers at the Essentials Center make it a priority to make patients feel comfortable, safe, and heard.  Our goal is to help you achieve your goals, and we're excited to be with you every step of the way."
In her free time, Laura enjoys hiking with her boyfriend and two dogs, traveling, and spending time with her family.
Monday – Friday 8:30AM – 5:00PM
Saturday Closed
Sunday Closed
 WEST AUGUSTA
3696 Wheeler Road
Augusta, GA 30909
(706) 736-1830 
DOWNTOWN AUGUSTA
1303 D'Antignac St, Ste. 1000
Augusta, Ga. 30901
(706) 821-2944 
 AIKEN
222 University Pkwy
Aiken, SC 29801
(803) 306-1438 
ESSENTIALS CENTER
1220 George C Wilson Dr
Augusta, GA 30909
(706) 941-8206