Miriam Yvette Jones Atkins, M.D., FACP
Profile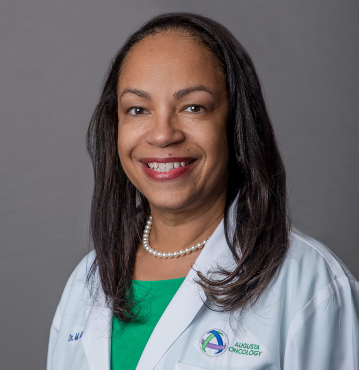 Dr. Miriam Atkins grew up in Lanham, MD. She earned a Bachelor of Arts in Biology from Hampton University, Hampton, Virginia and her Doctor of Medicine from Eastern Virginia Medical School, Norfolk, Virginia. Dr. Atkins completed her Residency in Internal Medicine (1993) and her Fellowship in Hematology/Oncology (1996) at Brooke Army Medical Center, Fort Sam Houston, San Antonio, Texas. While serving in the United States Army, she attained the rank of Major. Prior to leaving the Army in 1998, she was the Associate Director of the Adult Bone Marrow Transplant Unit and a member of the Clinical Faculty at Brooke. Dr. Atkins worked at Texas Oncology for two years before moving to Augusta, Georgia. She joined AO Multispecialty Clinic, the only privately-owned Oncology group in the CSRA, in 2000 and has been an invaluable part of the team. Dr. Atkins is board certified in Medical Oncology. She is also the Associate Medical Director for Pruitt Health/Hospice & Palliative Care.  She has also been an Assistant Clinical Professor for the American University of Antigua and the University of Medicine and Health Sciences in St. Kitts.
Dr. Atkins is very active in the community and holds leadership positions at the hospitals in Augusta. She is the President-Elect of the Medical Staff at Piedmont Hospital – Augusta.  Dr. Atkins has served on the Board of Trustees at Augusta Preparatory Day School and the Board of Directors of Child Enrichment, Inc, and Symphony Augusta.
She is very active with the local chapter of the Alzheimer's Association and was the People's Choice Winner of Dancing Stars of Augusta in 2017. Dr. Atkins has a passion for maintaining community oncology and healthcare government reform. She is a board member of the Patient Access Network Foundation, an organization that helps patients with co-pays for medications. She has been an active member of the Community Oncology Alliance (COA), a national organization that advocates for cancer patients in the legislative arena. She is currently the Vice President of the organization and Medical Co-Chair for the Patient Advocacy (CPAN) section.
Dr. Atkins is a member of The Augusta (GA) Chapter of The Links, Incorporated, Delta Sigma Theta Sorority, Incorporated, and the Junior League of Augusta (Sustainer). She has an endowed scholarship at Hampton University and a named room in the shelter at Safe Homes of Augusta.
Dr. Atkins frequently gives lectures to local community groups. She enjoys traveling, fine dining, competitive Ballroom Dancing and spending time with her daughter, Schuyler.
Monday – Friday 8:30AM – 5:00PM
Saturday Closed
Sunday Closed
 WEST AUGUSTA
3696 Wheeler Road
Augusta, GA 30909
(706) 736-1830 
DOWNTOWN AUGUSTA
1303 D'Antignac St, Ste. 1000
Augusta, Ga. 30901
(706) 821-2944 
 AIKEN
222 University Pkwy
Aiken, SC 29801
(803) 306-1438 
ESSENTIALS CENTER
1220 George C Wilson Dr
Augusta, GA 30909
(706) 941-8206