Profile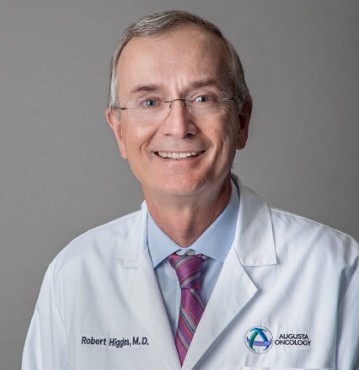 Gynecological Oncologist Dr. Robert Higgins earned his Doctor of Medicine at East Carolina University School of Medicine in 1982, after completing his undergraduate studies in Biology at the University of North Carolina-Chapel Hill. It was while he was caring for gynecological oncology patients and assisting with surgeries during his Ob-Gyn residency at Charlotte Memorial Hospital that Dr. Higgins became inspired to pursue a career in Gyn Oncology. He then began his Gynecologic Oncology Fellowship at the University of Kentucky. Since 1992, Dr. Higgins has been Board Certified in Ob-Gyn and Gyn Oncology.
For Dr. Higgins, the most rewarding part about working in oncology is "caring for brave, resilient women" who are battling a gynecologic cancer. He encourages each of his patients to "try to look for the positives throughout treatment and accept what cannot be changed." When not practicing medicine, Dr. Higgins likes to stay active with exercise. He loves playing golf, and watching all types of sports.
Some interesting facts about Dr. Higgins: he's an Eagle Scout, he bicycled from Virginia to Oregon at the age of nineteen, and he attended the very first Atlanta Braves game in 1966.
Monday – Friday 8:30AM – 5:00PM
Saturday Closed
Sunday Closed
 WEST AUGUSTA
3696 Wheeler Road
Augusta, GA 30909
(706) 736-1830 
DOWNTOWN AUGUSTA
1303 D'Antignac St, Ste. 1000
Augusta, Ga. 30901
(706) 821-2944 
 AIKEN
222 University Pkwy
Aiken, SC 29801
(803) 306-1438 
ESSENTIALS CENTER
1220 George C Wilson Dr
Augusta, GA 30909
(706) 941-8206